Favorite #OOTDs from the Netflix romantic comedy.
After Crazy Rich Asians I was looking for the next romantic comedy to add to my playlist. I got Bridesmaids and I needed another movie that would make me want to Google the actors over and over again.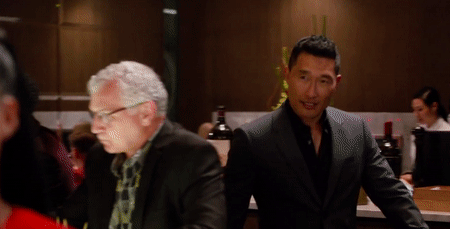 Always Be My Maybe was that movie, not only is Brando Choi hot but the styling in the movie is what made me want to write a blog during a tropical storm. I will describe the styling and suggestions to make it your own (warning there might be spoilers).
Marcus & Sasha as kids
Please tell me where all the cute kids with denim jackets and turtlenecks where at in 1998 because all I remember was sparkling t-shirts and flare jeans.
I promise you I have a jacket like this in my closet and might've worn Marcus' outfit for a photoshoot. The denim on denim look is on brand this season along with the prairie floral detailing on Sasha's jacket.
When it comes to denim I prefer neutral tones or prints that look aged. Below are some inspo looks when Marcus and Sasha went around town in San Francisco and snapped a few pictures in the photobooth.
I wanted pieces with pastel color florals and an option if you aren't a green thumb.
Brandon Choi
I've never wanted an Adidas tracksuit more than when I saw this hottie wearing one.
I was obsessing over Sasha's wedding option (yes, I love that black flower with the dark lip look) when I saw Brandon Choi get up and walk toward her. I wanted him and that tracksuit.
Left such an impact on me I was Poshmarking the hell out of Adidas, but I found a similar one rocked by Desus from "Desus & Mero".
Sasha Tran
Can I just be Ali Wong please?
Boss lady herself was on point with her beanies and jackets, take a look at my paparazzi shots when I was watching the movie.
My current obsession is a double breasted blazer paired with cool shades to pick up coffee or go to work in style.
Keanu Reeves
Spoiler Alert!
Sasha breaks up with Brandon and starts dating... THE KEANU.
This smooth talker was the breakout star looking good in glasses with no lenses. Look like you are dressed in Tom Ford with these easy styling tips from He Spoke Style.
Have you watched "Alway Be My Maybe?"
Comment below your favorite looks from the movie